About
Computie Pie is a member of Pudgyville, a place where ponies can be fat and happy.
Early Life
Details coming soon.
Appearance
Computie Pie is a fat blue pony with yellow hair and brown eyes.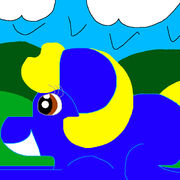 Personality
Computie Pie loves to invent and will often take parts from things that don't work to make them. Her inventions are made with everyone else in town in mind and generally feature the town'ts theme.
Family
Computie Pie has a sister named Cutie Computie Patootie and two parents.