About
Crackle Heart is a resident of Ponyville.
Early Life
Crackle Heart used to be slender an innocent until her brother opted to use her as a shield against the fires he'd start by fattening her up. Later, he decided to make her bad too.
Appearance
Crackle Heart is a fat sky pony with cyan and blue hair and gold eyes.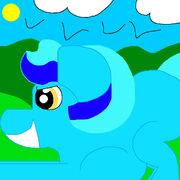 Personality
Crackle Heart isn't as destructive as Smokey Flame so she can still be convinced to stop her behavior but only temporarily.
Family
Crackle Heart's only known family member is his brother Smokey Flame.
Relationships
Crackle Heart is not involved in any love relationships.