About
Marie is a resident of Pudgyville, a place where ponies can be fat and happy.
Early Life
Details coming soon.
Appearance
Marie is a fat fuchsia pony with blue and cyan hair with bright green eyes.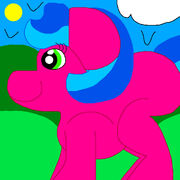 Personality
Marie is rather patient, especially with her job as music teacher at Ms. Sheila's school. She sees success in all of her students and will strive to make sure they do their best.
Family
Marie is cousin to G1 Melody and has two parents.
Relationships
Marie is not involved in any love relationships but has accepted Bongo Belle to live with her as she works for a solution to his rowdiness.