About
Mary is a pony from Pudgyville, a place where ponies can be fat and happy.
Early Life
Mary was a member of The Calorie Stealers and helped build the weaponry the group would use against Pudgyville.
Appearance
Mary is dark pink with light green hair and orange eyes.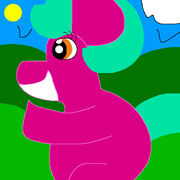 Personality
Mary tends to be more loyal to Stella than Stephanie, often siding he with her, even if the scheme in progress isn't going to work out. She's also 2nd smartest next to Stella. As a member of The Calorie Stealers, Mary often questioned Stella's decisions, having doubts that the intended plan was going to be successful but was often told to shut up.
Family
Mary has no known family members.
Relationships
Mary has no romance relationships but is friends with Stella and Stephanie, even after being evil.