About
Mr. Spice is a resident of Pudgyville, a place where ponies can be fat and happy.
Early Life
Details coming soon.
Appearance
Mr. Spice is a fat dark brown unicorn pony with light orange eyes and dark green hair.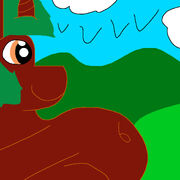 Personality
Mr. Spice likes the idea of meditation and his involves rubbing his belly to relax.
Family
Mr. Spice is a member of the Spice Family, which includes, his daughters Galapeño and Tomalia, his wife Mrs. Spice and their daughters' cousin Pepper Spice.
Relationships
Mr. Spice is currently married to Mrs. Spice.