About
Sarah is a pony from Pudgyville, a place where ponies can be fat and happy.
Early Life
Details coming soon.
Appearance
Sarah is a fat black unicorn pony with light pink and fuchia hair and brown eyes.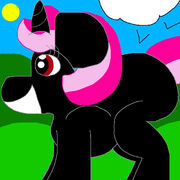 Personality
Sarah loves to help others, even if they don't need it. In fact, she loves helping so much that she has list that is 1/4 mile long filled with ponies she intends to help. She got her love of lists frorm her mom.
Family
Sarah has a mom and dad and is cousin to G1 Sweetheart.
Relationships
Sarah has showed feelings for a male pony in town named Martin.